Recipe: Tea-infused Inland Chai spiced naked cake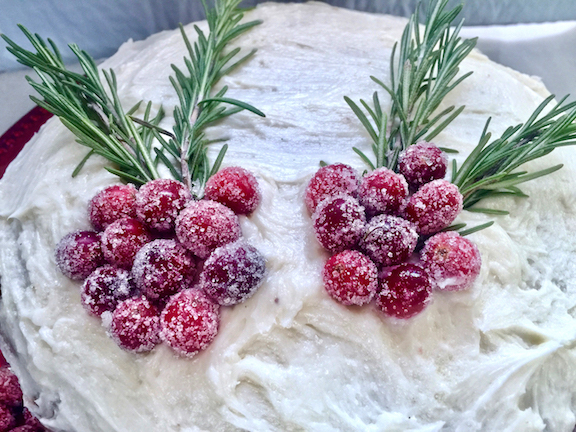 This chai-infused spiced cake with chai buttercream frosting and sugared cranberries is the perfect centerpiece for your holiday dessert table.
This sweet holiday cake was inspired by our Inland Iced Chai artisan loose leaf tea. We also used our Fall Spice infused artisan pure cane sugar in the cake and to sugar the cranberries. Not only was our chai grounded up for the cake, we brewed some extra strong to infused the buttercream frosting with. Below is the recipe.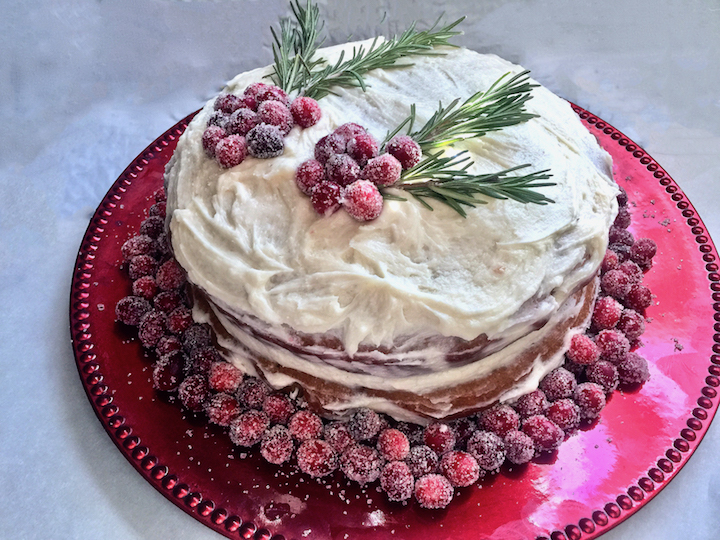 INGREDIENTS
2 cups all-purpose flour
1 tsp. baking powder
1 tsp. baking soda
3 tsp Inland Iced Chai by Beach House Tea (ground up)
1 tsp. fine sea salt
3/4 cup vegetable oil
1 cup applesauce
1 Tbsp. orange zest
1 1/4 cups Fall Spiced Infused Artisan Pure Cane Sugar by Beach House Teas
3 large eggs, room temperature
1/3 cup whole milk
Cinnamon Buttercream:
1 cup (two sticks) unsalted butter
1 tsp. vanilla extract
2 cups confectioner's sugar
1/2 tsp Inland Iced Chai by Beach House Tea (ground up)
1 Tbsp. strong brewed Inland Iced Chai
2-3 Tbsp. heavy cream
Sugared cranberries:
1 cup water
1 1/2 cups Fall Spiced Infused Artisan Pure Cane Sugar by Beach House Teas
2 cups fresh cranberries
INSTRUCTIONS
Preheat oven to 350 degrees. Butter two 9 inch round cake pans (or two 6 inch for a four layer cake) and line with parchment.
In a medium bowl, whisk together flour, baking powder, baking soda, ground Inland Iced Chai loose leaf tea and salt. Set aside.
In the bowl of a stand mixer fitted with a paddle attachment, cream together vegetable oil, applesauce, and orange zest. Add infused sugar and eggs, one at a time, and continue to mix until smooth.
With the mixer on low, add half the flour mixture until just combined. Add the milk. Continue to mix until just combined. Add remainder of flour mixture. Mix until you can no longer see streaks of flour, scraping down bowl as necessary.
Divide cake batter evenly between prepared pans. Level using an offset spatula. Bake for 35 minutes or until toothpick inserted in middle of cake comes out clean. Cool in pan for 5 minutes. Release cakes from pans and allow to cool on wire rack.
For four layer cake, slice each 6 inch cake into two equal layers so you have four layers total.
Place one layer on cake stand. Spread about 1/2 cup frosting evenly on first layer. Place another layer on top and top with frosting and continue until you reach the top layer.
Spread remaining frosting on the side of the cake. Smooth with an icing smoother, letting some of the cake show through for a more rustic, naked look. Keep in refrigerator until ready to serve.
Remove from fridge 45 minutes before serving. Just before serving garnish the cake with some sugared cranberries around the top and bottom of cake.
 
Inland Chai Buttercream frosting instructions
In bowl of stand mixer fitted with a whisk attachment, beat butter at medium speed until light and fluffy, about 2-3 minutes.
Add vanilla and continue to beat until blended. Add in the powdered sugar and ground Inland Iced Chai. Beat until well blended. Add the strong-brewed Inland Iced Chai. Add heavy cream, one tablespoon at a time, until you've reached desired spreading consistency.
Sugared Cranberries
In a small saucepan, combine water and 1 cup Fall Spiced Infused sugar. Bring to a simmer over medium heat and whisk until sugar is dissolved. Remove from the heat and stir in the cranberries. Cover the pan and let stand for 10 minutes.
Strain. Place a piece of parchment on a wire rack and let the cranberries dry on the parchment for an hour.
Place the remaining 1/2 cup sugar in a shallow bowl and toss the cranberries in the sugar to coat. Decorate the top and bottom of the cake (as pictured) with the cranberries. You will have extra cranberries. You can serve them on the side of each slice of cake.